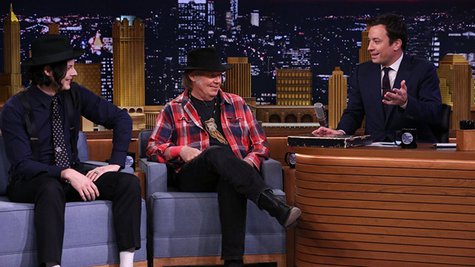 Neil Young and Jack White appeared on NBC's The Tonight Show Starring Jimmy Fallon on Monday night. They promoted their recent collaboration, the new Neil Young album A Letter Home , with Young performing one of its tracks. He did so in the same 1947 Voice-o-Graph recording booth, belonging to White, in which he recorded his album.
White, who co-produced A Letter Home , said the two got together last year at Record Store Day, when he debuted the booth at his Third Man Records store in Nashville. Neil recalled that he overheard someone covering one of his songs in the booth, then told White he wanted to try it, too.
That discussion ultimately resulted in A Letter Home , a compilation of songs originally recorded by musicians that Young said inspired him. He said they were singer-songwriters who "could play their own instruments and sing by themselves and deliver a song. That was something that made a big difference to me when I was younger."
White brought the recording booth to The Tonight Show , and Young recorded onto vinyl a new version of one of his A Letter Home tracks, a cover of Willie Nelson 's "Crazy," live during the program. Jimmy Fallon played the vinyl recording afterward.
During the interview segment, Fallon mentioned how he's impersonated Young on his late-night shows in the past. Young quipped, "I was here a long time ago. Looking good. Looking good."
Follow @ABCNewsRadio
Copyright 2014 ABC News Radio