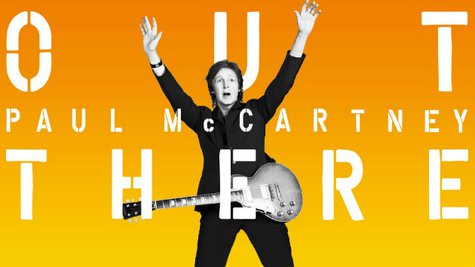 This past November, Paul McCartney wound down his 2013 Out There Tour with a sold-out run of six dates in Japan and now he's bringing the trek back to the Land of the Rising Sun. The rock legend has scheduled three new shows in the country -- a May 17-18 engagement at National Stadium in Tokyo and a May 24 concert at Osaka's Yanmar Stadium Nagai.
McCartney has posted a video message to his Japanese fans on his official YouTube channel. In the clip, he says, "Hey, everybody in Japan, hello again. Hey listen, I'm coming back for the second part of our Out There Tour…Oh yeah! Remember. Come on, let's rock. We're coming to Tokyo. We're coming to Osaka. We're coming to Japan. Let's rock! Psycho!"
The shows will be Sir Paul's first-ever outdoor stadium events in Japan. The concerts will follow a series of recently announced performances the ex- Beatles star has lined up in South and Central America.
Here are all of McCartney's confirmed 2014 tour dates :
4/19 -- Montevideo, Uruguay, Estadio Centenario
4/21 -- Santiago, Chile, Movistar Arena
4/22 -- Santiago, Chile, Movistar Arena
4/25 -- Lima, Peru, Estadio Nacional
4/28 -- Quito, Ecuador, Estadio de Liga
5/1 -- San José, Costa Rica, Estadio Nacional
5/17 -- Tokyo, Japan, National Stadium
5/18 -- Tokyo, Japan, National Stadium
5/24 -- Osaka, Japan, Yanmar Stadium Nagai
Copyright 2014 ABC News Radio