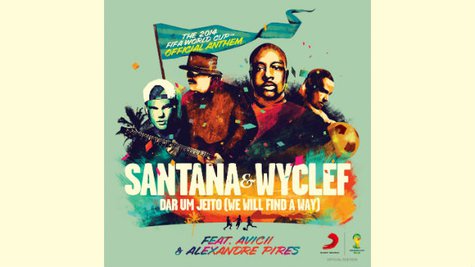 Carlos Santana is one of the international music stars who contributed their talents to the official anthem of the 2014 FIFA World Cup , which will take place this summer in Brazil. The song, titled "Dar um Jeito (We Will Find a Way)," also features Haitian-American singer/rapper Wyclef Jean , Swedish DJ/producer Avicii and Brazilian singer/songwriter Alexandre Pires and will be released in late April.
Santana and his collaborators will perform the anthem live during the 2014 World Cup's Closing Ceremony on July 13 at Rio de Janeiro's famous Maracana Stadium.
"It is an honor to take part in the 2014 FIFA World Cup and have 'Dar um Jeito (We Will Find a Way)' selected as the anthem," says Santana in a statement. "Along with my brothers, Wyclef, Avicii and Alexandre Pires, we look forward to performing the song in Rio de Janeiro in July and sharing this message of light and hope on the FIFA World Cup stage."
Meanwhile, Ash Pournouri , one of the song's producers, explains, "In Portuguese 'Dar um Jeito' means to find a way around obstacles and impossibilities. With this track, we wanted to send a message of optimism and opportunity with the music and the words."
As previously reported, Santana and his band will release their first-ever Spanish-language album, Corazon , on May 6. The record features appearances by such acclaimed music artists as Gloria Estefan , Juanes , Ziggy Marley , Miguel , Pitbull and Wayne Shorter . Santana will support the album with a tour that's scheduled for the late spring and summer, while the band also has lined up a joint trek with Rod Stewart that will take place around the same time. Visit Santana.com to check out the group's full itinerary.
Copyright 2014 ABC News Radio