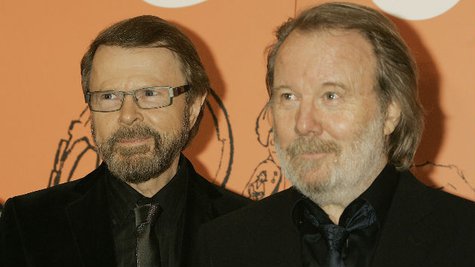 ABBA members Benny Andersson and Björn Ulvaeus , who also wrote all of the Swedish pop legends' songs, will reunite at the 2014 Olivier Awards , the U.K.'s equivalent to the Tonys. Benny and Björn will join the current London cast of their hit ABBA-themed musical Mamma Mia! for a grand-finale performance that will celebrate the 15th anniversary of the stage production's debut.
This year's Olivier Awards will be handed out April 13 at the U.K.'s Royal Opera House in London. The event will be broadcast on British television on the ITV network.
Benny and Björn composed the music for Mamma Mia! , which premiered on the London's West End in March 1999. The show features performances of a variety of ABBA's biggest hits while telling the story of a young woman who's trying to determine the identity of her father on the eve of her wedding on a Greek Island. The musical has been performed in many countries, and was turned into popular 2008 film starring Meryl Streep .
ABBA also is marking another major career milestone this year -- the 40th anniversary of its historic win at the 1974 edition of the prestigious Eurovision Song Contest in Brighton, England. The milestone, which saw the legendary Swedish pop act's song "Waterloo" take the prize, helped launched the group into international superstardom.
Back in November, ABBA singer Agnetha Faltskog revealed in an interview with a German newspaper that she and her fellow band mates were "thinking about" organizing some kind of reunion event to celebrate the 40th anniversary. "There seem to be plans to do something to mark this anniversary in some way," she said. "But I can't say at this point what will come of them."
Copyright 2014 ABC News Radio