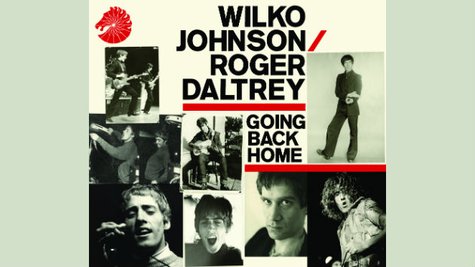 The first official video for a song from Who frontman Roger Daltrey and ex- Dr. Feelgood guitarist Wilko Johnson 's upcoming collaborative album, Going Back Home , has premiered online . The black-and-white clip, which accompanies the rollicking blues-rock tune "I Keep It to Myself," shows Daltrey along with Johnson and his current backing band miming the songs on a dimly lit stage.
Daltrey's voice sounds as powerful as ever on the track, as the rock legend delivers a vocal reminiscent of classic Elvis Presley . Like nearly all of the songs on Going Back Home , "I Keep It to Myself" was written by Johnson. The original version appeared on one of his 1980s post-Dr. Feelgood releases.
Daltrey teamed up with Johnson to record Going Back Home over the course of a week this past November, several months after Wilko was diagnosed with terminal pancreatic cancer. The album, which will be released in the U.S. on April 8, features 11 tracks, 10 of which were written or co-written by Johnson. The other song is a cover of a Bob Dylan rarity titled "Can You Please Crawl Out Your Window?"
Daltrey and Johnson played a one-off show last month in London to promote the album, and also participated in a Q&A event, but they haven't announced any other plans to appear together. Johnson will take part in a meet-and-greet and album signing at the HMV Oxford Street store in London this Tuesday, a day after Going Back Home gets its U.K. release.
Copyright 2014 ABC News Radio