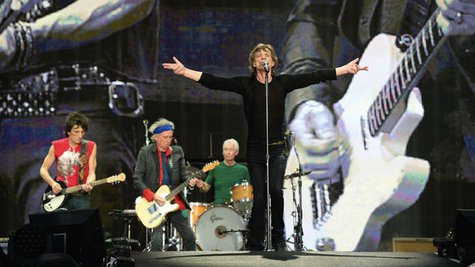 With The Rolling Stones postponing its Australian and New Zealand tour dates following the death of Mick Jagger 's longtime girlfriend, L'Wren Scott , promoters now are working to reschedule the concerts. Michael Gudinski , head of Frontier Touring, the company that's co-organizing the trek, tells Billboard that the rock legends likely will head back Down Under before the end of the year.
"Everyone is working very closely together, and it's looking very likely that the rescheduled dates for Australia/New Zealand will be October-November 2014," he reports.
The Stones had seven concerts scheduled in the region: six in Australia and one in New Zealand. The tour was supposed to have kicked off in Perth, Australia, this past Wednesday and would have wound down on April 5 in Auckland, New Zealand. The trek also was to have included a performance this Saturday in Adelaide that would have marked the opening of a newly-renovated venue called the Adelaide Oval. Gudsinski tells Billboard that the band's makeup gig still likely will be a historic one.
"You couldn't possibly replace the Rolling Stones and, combined with the fact that the Australian football season commences at the Oval on March 29, the rescheduled Stones' show will still be the first concert performed there," he explains.
In announcing the tour's postponement , the band and Frontier Touring asked ticket holders to hang on to their tickets and await further instructions about the rescheduled dates. Gudsinski says that more than 150,000 tickets were scooped up for the concerts, noting, "Apart from some last-minute production releases, the shows were sold out immediately."
The Stones had just arrived in Australia when they got word of Scott's death on Monday. According to Gudsinski, as of Thursday, "the Rolling Stones party have mostly departed" the country.
Copyright 2014 ABC News Radio