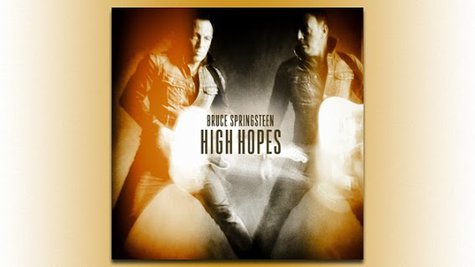 A new documentary focusing on the making of Bruce Springsteen 's latest studio album, High Hopes , will premiere on HBO on Friday, April 4, at 9:30 p.m. ET/PT. The half-hour show includes behind-the-scenes footage from the recording sessions, as well as new interviews with Springsteen and Rage Against the Machine guitarist Tom Morello , who collaborated closely with the Boss on the project.
Bruce is featured discussing various aspects of the recording, including the unique contributions Morello brought to the proceedings. In addition, the special offers performance footage from Springsteen and his E Street Band 's 2013 tour of Australia, on which Morello joined them as a fill-in for the group's longtime guitarist Steven Van Zandt , who took time off to film his Netflix series Lillyhammer .
During the trek, Morello's guitar playing inspired the Boss to invite the modern rocker to add his innovative musicianship to a variety of unreleased tracks Springsteen had amassed during the past decade or so. The resulting album was High Hopes , which was released in January and proceeded to top the charts in the U.S. and 19 other countries. Morello wound up on eight of the record's 12 tracks, and even contributed co-lead vocals to an updated version of the 1995 Bruce tune "The Ghost of Tom Joad."
Morello has continued to tour with Springsteen and the E Street Band in 2014, and will be with the rockers when they launch a new U.S. leg in April.
Copyright 2014 ABC News Radio