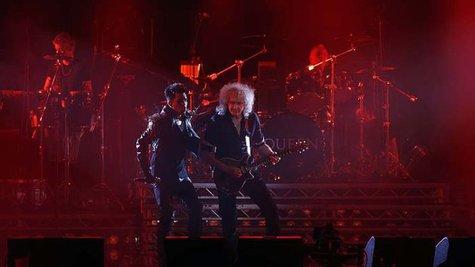 We knew the announcement was coming. Now Queen and Adam Lambert have confirmed they're hitting the road together for a North American tour.
Lamberthas performed with the legendary British rock group on a number of occasions, both in the U.S. and overseas, but he and Queen have never actually toured in the U.S. That changes beginning June 19 at Chicago's United Center, the first of 19 dates in all in the U.S. and Canada, wrapping July 20 at the Merriweather Post Pavilion in Washington, D.C.
When he performs with Queen, Lambert stands in for the band's founding lead singer, Freddie Mercury , who died in 1991 of AIDS-related illness. They first joined forces in 2009 for a performance of "We Are the Champions" on American Idol . In the summer of 2012, Queen + Adam Lambert performed six shows in Europe, and this past fall, they also performed at a multi-artist show in Las Vegas.
"I'm honored to be able to pay my respects to Freddie's memory," Lambert said in a statement. "He's a personal hero of mine, and I am deeply grateful for the chance to sing such powerful music for fans of this legendary band." Queen guitarist Brian May kept his comment succinct: ""Let's ROCK those beautiful arenas JUST ONE MORE TIME!"
When May says "just one more time," he isn't kidding. He tells ABC News Radio that this is likely going to be the last time he and drummer Roger Taylor head out on tour together as Queen. "Speaking for only Roger and myself, I don't know how much more we will be able to do this," he says. "So we looked at each other and thought, y'know, 'Should we go for this one more time? Just the one more?'"
Lambert says that what really provided the impetus for the tour was that one-off show that he, May and Taylor did in Las Vegas last fall. "It just felt perfect, it just felt like it was totally in the cut, it was really really good and we figured we had to bring it to more people," he tells ABC News Radio. "And so I'm really excited that this worked out. I feel very humbled and very excited at this opportunity...and lucky. I feel lucky."
May says what gave him and Taylor even more motivation to do the tour was the prospect of returning to all those legendary venues that they had once rocked with Freddie Mercury.
"For us, Madison Square Garden and the Forum in L.A., that's magical nostalgia in a sense for us, but much more than nostalgia, because that's what we do, and that's when we were at our peak and I think we can be at a new peak with Adam," May explains. "For Adam, he hasn't done these things but he's played with us, he knows us and he's the man. He's the guy to pull this off. He's incredible."
Both May and Taylor feel that there is no question that Mercury would have heartily approved of the job that Lambert does fronting the band.
"It goes without saying, really," notes May. "Freddie admired quality and talent and I know Freddie would gasp at some of the stuff that Adam takes on."
"I don't even think about it when we're on [stage] there to be honest, you know, it feels right, it feels comfortable, in a good way, and I don't mean complacent," he adds. "I just mean it feels good and everything is at maximum potential."
So far, the set list hasn't been decided upon, but you can expect all of Queen's biggest hits, as well as some deeper cuts.
Copyright 2014 ABC News Radio