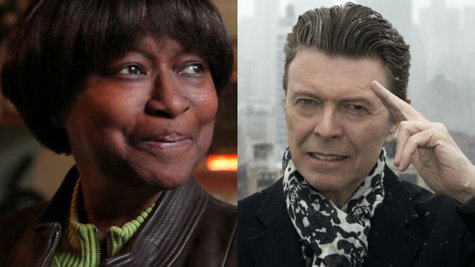 It appears that David Bowie may be working on a new project with veteran soul and gospel singer Claudia Lennear , one of the backing singers profiled in the recent Oscar-winning documentary 20 Feet from Stardom . Lennear tells New York Post 's Page Six that Bowie phoned her up a few days before the Academy Awards and offered to collaborate with her.
"I got a call from David Bowie out of the blue," she reveals. "He told me he wanted to write my next project. I couldn't believe it when I first heard his voice."
Lennear points out that it's been 20 years since she last saw the influential singer/songwriter, with whom she previously collaborated during the 1970s and was rumored to have had a romantic relationship. She adds, "I am not sure what my next project will be. . .but I will definitely hold David to his promise."
Like many of the other singers featured in 20 Feet from Stardom , you may not know Lennear by name but you probably are familiar with her work. She was a member of Ike and Tina Turner 's backing group The Ikettes , and also sang with such other stars as Joe Cocker , Leon Russell and Stephen Stills . In addition, she performed at George Harrison 's Concert for Bangladesh benefit show and reportedly was the inspiration for The Rolling Stones classic "Brown Sugar" and Bowie's tune "Lady Grinning Soul."
Lennear also released a solo album titled Phew! in 1973, before leaving the music business later in the decade. She eventually became a language teacher at a California college.
Copyright 2014 ABC News Radio