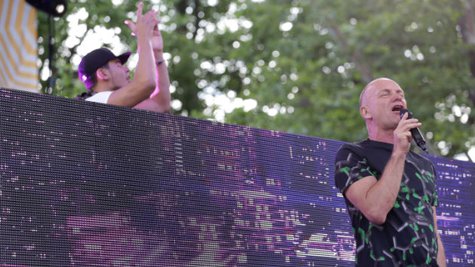 Sting teamed up with superstar electronic dance music deejay and producer Afrojack to perform as part of the Summer Concert Series on Friday's Good Morning America . After performing their single, "Catch Tomorrow," Sting told ABC's Robin Roberts why he collaborated with the Dutch deejay.
"Afrojack makes great music but makes people happy all over the world, thousands and thousands of people. You can't argue with that," the 16-time Grammy Award winner said.
How did the two come to work together? Afrojack, born Nick van de Wall, tells ABC News Radio that after he and his collaborators wrote the song "Catch Tomorrow," someone suggested that Sting should sing on it. Afrojack scoffed at the idea of persuading someone that famous and iconic to sing on the tune. But one of his friends, a top music executive, contacted Sting and played him the track. He loved it, so Afrojack ended up flying to New York to record with the rock legend. He tells ABC News Radio that Sting "killed it...he sounds perfect."
Sting released his fourteenth solo album, The Last Ship , last year: the songs on it are also featured in an upcoming Broadway musical of the same name. Sting said he was inspired to create the musical after some soul-searching. "My soul is where I find inspiration," he said.
"It's set in my hometown in the Northeast of England, which is a shipyard town," he explained of his production. "And it's about the closing of the shipyard."
Now showing in Chicago until July 13, The Last Ship then heads to Broadway for previews, beginning September 30, ahead of an October 26 official opening.
Follow @ABCNewsRadio
Copyright 2014 ABC News Radio