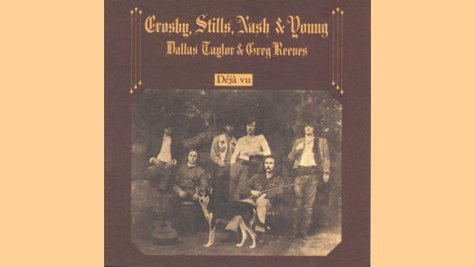 With the impending release of the archival Crosby Stills, Nash & Young box set CSNY 1974 , focusing on the quartet's reunion tour of that year, Graham Nash has revealed that he's considering another project that should enthrall fans. The singer/songwriter tells Rolling Stone he's "toying with the idea of" putting together an expanded version of CSNY's 1970 debut studio effort, Déjà Vu .
"When we made the album we were restricted by the technicalities of how many minutes you can get onto a side of vinyl without having to compress everything," he explains. "It meant we had to fade everything out."
Graham, who's become the de facto curator of archival projects involving David Crosby , Stephen Stills , himself and, sometimes, Neil Young , says he'd like to make available full versions of songs that had to be abridged because of previous time constraints.
"We recently did a mix of one of David's songs that went all the way through from beginning to end," he reports. "I thought to myself, 'I'd like to hear "Carry On" without it fading.' I want it to go all the way to the end when Dallas [ Taylor ] put his drumsticks down. I want to hear the jam we did at the end of 'Everybody I Love You.'"
In addition, Nash says a separate archival CSNY project from the Déjà Vu period also could eventually see light of day: a concert video of professionally filmed performances the group did in June 1970 at the Fillmore East in New York City.
"Those shows we did at the Fillmore East were absolutely the best shows we ever did in our lives and that's all been filmed," Graham declares. "It's just a question of whether we have the time and desire to put them out." So far, only brief pieces of footage from those concerts have been released.
CSNY 1974 will be released in a variety of formats and configurations on July 8.
Follow @ABCNewsRadio
Copyright 2014 ABC News Radio