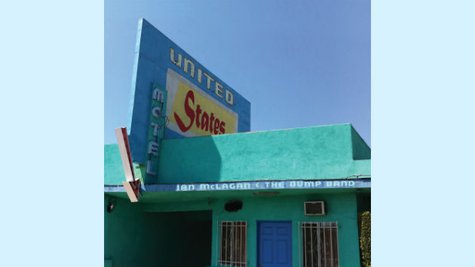 Ian McLagan may be best known as the keyboardist for the Faces and Small Faces , but for years the British rocker has been putting out his own albums with accompaniment from his longtime backing group The Bump Band . The latest offering from the 69-year-old Rock and Roll Hall of Famer is United States , which was released last week.
McLagan, who settled in Austin, Texas, about 20 years ago, says that despite its title, the album is "not really about America." He tells ABC News Radio, " United States is about relationships… it's about uniting states."
The 10-track collection includes tales of infatuation, requited and unrequited love, obsession and flirtation, propelled by McLagan's skillful piano and organ playing and showcasing his weathered, reedy voice. Sonically, the songs offer up a stew of mid-tempo rock, blues, R&B, soul and even a bit of reggae.
Ian actually finished recording United States back in 2012, but decided to wait until he found the right record label to release it. That finally happened earlier this year, when he signed a deal with Yep Roc.
McLagan tells ABC News Radio, "It's nice to be playing these songs now [live] and people can hear them on the record."
The album may have been completed a couple of years ago, but Ian admits that some of the songs on it actually have been kicking around for a lot longer than that.
"One song, 'Pure Gold,' I had about 23, 25 years ago," he reveals. "I wrote it in L.A. when I lived there and I'd recorded it with two different versions of The Bump Band, and neither one got it right or played it the way I saw it…So this band, [drummer] Conrad Choucroun , [guitarist] "Scrappy" Jud Newcomb and [bassist] Jon Notarthomas , got it."
McLagan points out that it's not unusual for him to hang on to a song for a while before getting around to recording it.
"I've got a load of songs that are old, you know, but I never give up on a song," he says. "It's like a child. You get 'em through college, and then they're on their own, but…you still got to see 'em for Christmas."
McLagan recently finished playing a handful of shows around the U.S. to celebrate United States ' release, and now he's set to travel to his homeland, the U.K., and Ireland for a series of gigs. The trek, which will feature Ian playing as a duo with Notarthomas, runs from a July 1 concert in Birmingham, England, through a July 19 performance in Dublin, Ireland.
He tells ABC News Radio that he's planning to play a lot more U.S. shows when he returns from overseas. "We've got a load of gigs around Texas and Oklahoma, in the area, for about a month, and then we're gonna go on a tour around the country and just kick it," he says.
McLagan also reports that fans may not have such a long wait for a follow-up to United States . "The next album is almost ready to be recorded," he says. "[During] this long break between albums, I haven't stopped [writing]...So we'll see how that goes. I'm dying to get in the studio, actually."
Follow @ABCNewsRadio
Copyright 2014 ABC News Radio