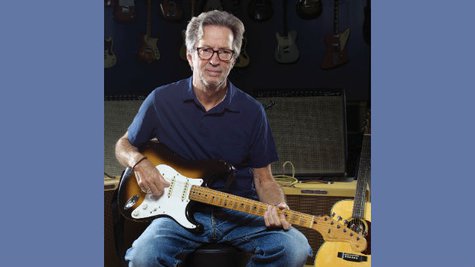 Eric Clapton fans who want to see the guitar legend perform live may only have a short time left to do so. In a new interview with the U.K. magazine Uncut , Clapton says he's considering retiring from the road when he turns 70, which would be March 30, 2015.
Slowhand notes in the article that his late friend and collaborator JJ Cale used to say, "When I turn 70 I'm unofficially retired," and Eric points out that he intends to follow suit, adding, "I think what I'll allow myself to do, within reason, is carry on recording in the studio, but the road has become unbearable."
Clapton expressed similar sentiments in a 2013 interview with Rolling Stone in which he declared, "When I'm 70, I'll stop. I won't stop playing or doing one-offs, but I'll stop touring, I think."
Eric also talks to Uncut about the current status of his relationship with his former Cream band mates, singer/bassist Jack Bruce and drummer Ginger Baker , and discusses the chances for another reunion.
"I haven't spoken to Jack or Ginger for quite a time," admits Clapton. He adds, "I don't think there's been any line of dialogue between any of us -- or between me and them, that is to say -- since the American affair," referring to the group's 2005 concert at Madison Square Garden, at which Baker and Bruce reportedly quarreled viciously.
Eric goes on to explain that after those shows, "I was pretty convinced that we had gone as far as we could without someone getting killed. At this time in my life I don't want blood on my hands! I don't want to be part of some kind of tragic confrontation."
As previously reported, Clapton is preparing to release a star-studded Cale tribute album titled The Breeze: An Appreciation of JJ Cale , on July 29. The record includes contributions from such famous musicians as Tom Petty , Mark Knopfler , Willie Nelson , John Mayer , Derek Trucks , David Lindley and Albert Lee .
Follow @ABCNewsRadio
Copyright 2014 ABC News Radio