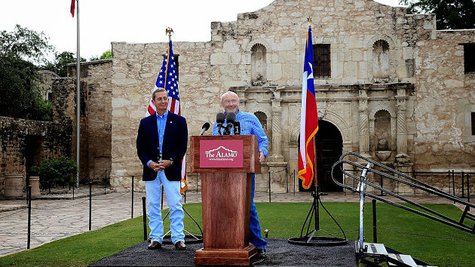 Phil Collins was in San Antonio on Thursday to officially announce that he's donating his extensive collection of memorabilia relating to the Alamo to the state of Texas.
The 63-year-old rock star joined Texas Land Commissioner Jerry Patterson outside of the historic building -- the site of a pivotal 1836 battle during the Texas Revolution -- to make the big announcement.
In introducing Collins, Patterson praised the London-born musician's "incredible generosity," and referred to him as "a true Texas [and] a man who knows more about the Alamo and Texas history than 99.9999 percent of those of us who live here."
Collins then took to the podium and declared, "This is a very special day for me because I've had a love affair with this place since I was about five years old." He went on to say, "I am enormously pleased and proud to have my collection 'going home' to the Alamo," adding, "It has been and will continue to be my passion, and I shall continue to gather relics and documents, and forward them so they can be enjoyed."
According to an official press release , among the many rare items included in Collins' collection are one of four rifles known to exist that belonged to Davy Crockett , a knife and sword owned by Jim Bowie , and letters and documents from Alamo commander William Barret Travis . The Grammy-winning singer's cache of artifacts is believed to be the largest collection of Alamo memorabilia in the world. Because of its size, the facility may not currently have enough room to display all of the items.
"The exact place where my collection should be housed, should live,… is the place where it came from," Collins said on Thursday. "There's things that I have that have never been back here since the day they left in 1836 and I am so proud to have this place as the home for it."
In 2012, Collins published a coffee-table book focusing on his collection titled The Alamo and Beyond: A Collector's Journey .
Follow @ABCNewsRadio
Copyright 2014 ABC News Radio