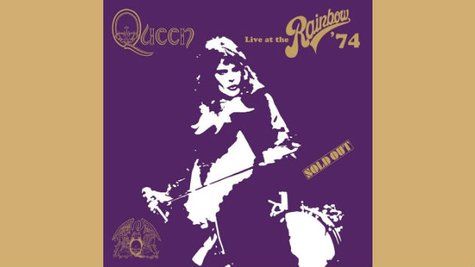 Queen fans can get a preview of the upcoming concert video capturing the band's historic 1974 performances at London's Rainbow Theatre in a new trailer that recently premiere online . Queen: Live at the Rainbow '74 , which will be released on September 9, features footage from shows the legendary British rockers played at the venue in March and November of that year.
The promo clip shows Queen performing in all its early glory, with frontman Freddie Mercury prowling the stage in a silky white jumpsuit and chain-mail gloves. The trailer includes brief segments of the band playing "Now I'm Here," "Father to Son," "Keep Yourself Alive," "Killer Queen" and "Seven Seas of Rhye."
Live at the Rainbow '74 catches Queen during its transition to a dynamic headlining act, while the group was supporting, respectively, its sophomore album, Queen II , and that record's follow-up, Sheer Heart Attack . The collection includes more than a dozen tracks that have never appeared before on any official Queen release.
As previously reported, Live at the Rainbow '74 will be available in a variety of video and audio configurations, including a single CD, a two-CD digipak, multiple-LP vinyl sets, a DVD, an SD Blu-ray disc, downloadable audio and video versions and a super deluxe collector's edition.
Follow @ABCNewsRadio
Copyright 2014 ABC News Radio