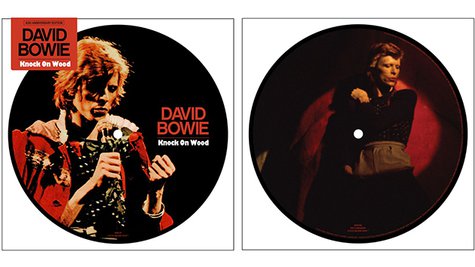 Details have been revealed about the next installment of David Bowie 's 40th anniversary singles set: a seven-inch vinyl picture disc featuring live renditions of the Eddie Floyd soul classic "Knock on Wood" and Bowie's own "Rock 'n' Roll with Me." The single will be released on September 22 .
Both songs originally appeared on the 1974 album David Live , which was recorded in July of that year at the Tower Theater near Philadelphia. The versions of "Knock on Wood" and "Rock 'n' Roll with Me" featured on the single are 2005 remixes by longtime Bowie collaborator Tony Visconti that haven't been available on vinyl before.
The photo that appears on side A of the picture disc comes from the sleeve of a "Knock on Wood" single released in France, while the image featured on side AA is a rare photo of Bowie taken in 1974.
Back in '74, Bowie's live version of "Knock on Wood" reached #10 on the U.K. charts. However, his in-concert rendition of "Rock 'n' Roll with Me" was chosen for release as a single in the U.S. instead, and did not chart.
Follow @ABCNewsRadio Copyright 2014 ABC News Radio