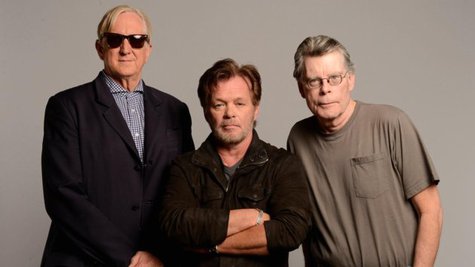 This fall will see the return of Ghost Brothers of Darkland County , the Southern gothic stage musical on which John Mellencamp collaborated with author Stephen King and producer T Bone Burnett , touring a variety of theaters across North America. The performances will get under way with a November 8-9 engagement in Orono, Maine, and will run through a December 5 show in San Francisco.
The production, which premiered in April 2012 at Atlanta's Alliance Theatre, tells the story of a tragedy in rural Mississippi that claims the lives of two brothers and a young girl in the late '60s and how the incident haunts a town during the ensuing years. The show features a cast of 15 actors that's accompanied by a live four-piece band made up of members of Mellencamp's touring group.
Among the many major cities the Ghost Brothers of Darkland County production will visit are Toronto; Philadelphia; Washington, D.C.; Baltimore; Boston; New York City; Detroit; Chicago; St. Louis; Denver; Phoenix; and Los Angeles. Tickets for most dates go on sale on Friday, June 20, via AXS.com.
A previously touring version of Ghost Brothers of Darkland County hit the road during the fall of 2013, mainly visiting theaters in the Midwestern U.S. In addition, a soundtrack album featuring performances by a variety of well-known singers and actors was released in June of last year.
Here is the full list of dates for the Ghost Brothers of Darkland County tour:
11/8 -- Orono, ME, Collins Center for the Arts
11/9 -- Orono, ME, Collins Center for the Arts
11/11 -- Toronto, ON, Canada, Massey Hall
11/13 -- Philadelphia, PA, Merriam Theatre
11/14 -- Durham, NC, Durham Performing Arts Center
11/15 -- Washington, D.C., Warner Theatre
11/16 -- Baltimore, MD, The Modell Performing Arts Center at the LYRIC
11/18 -- Red Bank, NJ, Count Basie Theatre
11/20 -- Portland, ME, Merrill Auditorium
11/21 -- Boston, MA, Emerson Colonial Theatre
11/22 -- Providence, RI, The VETS
11/24 -- New York, NY, Beacon Theatre
11/26 -- Detroit, MI, Fisher Theatre
11/28 -- Chicago, IL, Broadway in Chicago's Oriental Theatre
11/29 -- St. Louis, MO, Peabody Opera House
12/1 -- Denver, CO, Temple Hoyne Buell Theatre
12/3 -- Phoenix, AZ, Orpheum Theatre
12/4 -- Los Angeles, CASaban Theatre
12/5 -- San Francisco, CA, SHN Curran Theatre
Follow @ABCNewsRadio
Copyright 2014 ABC News Radio