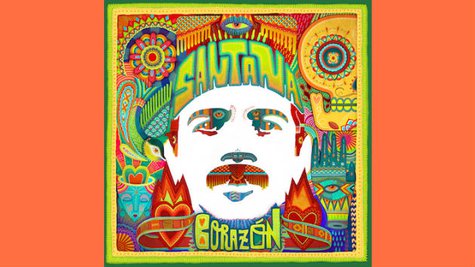 Sports fans who tune in to various events covered by ESPN and ESPN Deportes over the next few months will be treated to some brand-new music by Santana . The networks have launched a new campaign dubbed "The Summer of Santana" that will see songs from the group's recently released, first-ever Spanish-language album, Corazón , integrated into select telecasts, leading in and out of commercial breaks, and played during highlight and studio segments on TV, radio and digital outlets.
The initiative, which will run through August, kicks off with the song "Saideria" being played this month, followed by "Yo Soy La Luz" in July and "La Flaca" in August. Among the programs and events that will showcase the Santana tunes are the NBA Finals, the ESPYS, the U.S. Open, NBA Countdown , First Take , Numbers Never Lie , SportsCenter and Nacion ESPN .
"The inclusion of Santana's music, which is influenced by different genres and cultures, aligns with ESPN's efforts to use music that is appealing to a diverse audience," says ESPN music director Kevin Wilson in a statement. "Santana is a renowned artist who has built a prolific career, and we are excited to enhance our content with his tunes."
Released in May, Corazón features guitar legend Carlos Santana collaborating with a variety of special guests, including Gloria Estefan , Ziggy Marley , R&B singer Miguel , rap star Pitbull , jazz great Wayne Shorter , award-winning Colombian rocker Juanes and more. The record debuted at #9 on the Billboard 200 and has now notched its fourth straight week at #1 on the magazine's Latin Albums chart. Santana currently is supporting Corazón on a U.S. tour .
Follow @ABCNewsRadio
Copyright 2014 ABC News Radio