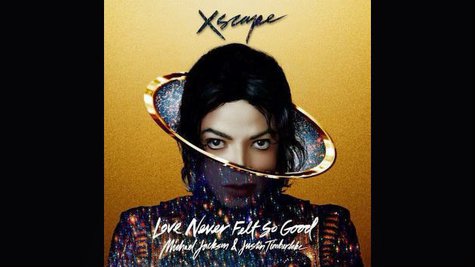 Michael Jackson 's duet with Justin Timberlake , "Love Never Felt So Good," made history when it reached the top 10 of the Billboard Hot 100 not long ago. Now, the late King of Pop is the only artist ever to score a top 10 hit in each of five decades. Response to the catchy, disco-flavored tune has been so positive that it's easy to forget that not everybody likes the idea of Michael Jackson material being released after his death. But L.A. Reid , who oversaw MJ's latest posthumous release, XSCAPE , says the late legend would have wanted it that way.
"He wanted his music to live forever and I think he wanted his legacy -- as any great artist would want their legacy -- to live forever," Reid told reporters recently. "And I don't think that when a great artist leaves us in body, that they leave us in spirit."
"He was there in spirit, he was there musically," Reid continued, describing the process of remastering the eight "leftover" songs that appear on XSCAPE . "In working on the record, we tried to do, as best we could, what we thought Michael would have loved. And those of us that worked on it that knew Michael really well, we had a good perspective on it. But the truth is, you can't ever really know, because he wasn't there."
However, in response to those who wonder if the fact that MJ never released those particular songs must indicate that he felt they were sub par, Reid counters, "Those were his songs. And he sang them many, many times, so my guess is that he must have loved the songs."
So why didn't he release them? Because, Reid says, they simply weren't as good as some of the other material Michael was working on at the same time. "Those songs were competing, at the time, against some of the greatest songs ever written that Michael had released, you know," Reid points out. "So, they weren't 'Thriller.' They weren't 'Off the Wall.'"
In other words, Reid joked, "They weren't 'Bad,' -- but they weren't bad ."
As the fifth anniversary of Jackson's death approaches, on June 25, he continues to make his presence felt, and not just through the new duet with Timberlake. His classic "Billie Jean" re-entered the top 20 last week thanks to its inclusion in a viral video of a high school kid dancing to it. Michael also scored his 50th Hot 100 single last week, thanks to "Slave to the Rhythm," another song from XSCAPE that an MJ "hologram" performed on the Billboard Music Awards last month.
Follow @ABCNewsRadio
Copyright 2014 ABC News Radio