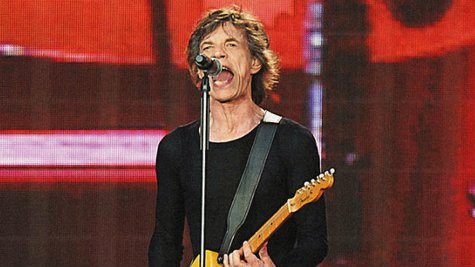 Is Mick Jagger to blame for Brazil's crushing loss to Germany in the World Cup semi-finals? If you believe some people, the answer is yes.
The U.K.'s Daily Mail reports that many Brazilians are indeed holding Jagger responsible for the country's defeat on Tuesday, calling him 'Pe Frio' -- which in English means 'cold feet' or 'the jinx.'
The Rolling Stones frontman took in the game with his 15-year-old son Lucas at Brazil's Mineirao Stadium from a VIP suite, his son wearing a signed Brazil jersey. They watched the home team lose 7-1 to Germany in one of the biggest defeats in World Cup history. Mick was wearing an England cap even though his country's team had been eliminated from the tournament a couple of weeks back.
But it wasn't just Jagger's presence at this pivotal match that prompted some Brazilians to hold him responsible for their team's loss. Apparently, he has a history of supporting teams in countries the Stones are playing -- countries which nearly always lose following his show of faith. When in Rome, for example, Jagger told fans that Italy would advance to the next stage of the World Cup; instead, they were beaten by Uruguay. In Lisbon, he predicted that Portugal would go all the way to the finals; they immediately lost to Germany. And back in 2010, Jagger actually wore a Brazil shirt to a game in which that country lost to the Netherlands in the quarter finals.
In response to the Brazilians' taunting of Jagger -- which included cyber-bullying and making cardboard cutouts of the singer wearing the shirts of opposing teams -- Luciana Giminez , his former flame and Lucas' mom, took to Instagram in his defense. She wrote in Portuguese but translated by the Mail , "Mick is a person like us all, and he does not deserve to be treated this way by Brazilians."
Follow @ABCNewsRadio
Copyright 2014 ABC News Radio