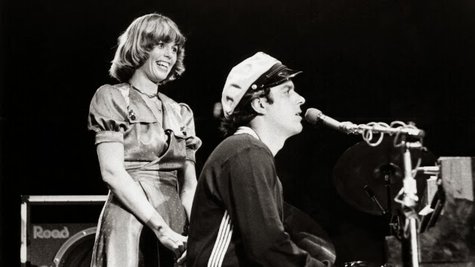 Despite the title of their signature hit, it appears that love won't be keeping Captain & Tennille together. The married couple, who scored a string of pop hits in the '70s, are splitting up.
Toni Tennille filed for divorce from Daryl "The Captain" Dragon on January 16 in Arizona Superior Court. She used her birth name, Cathryn A. Tennille , in the filing. The "A" stands for "Antoinette," from which she derived the nickname "Toni." The two have been married since 1974; they would have celebrated their 40th wedding anniversary this November.
The two met in 1972 when Tennille advertised for a keyboard player for a musical she'd co-written. Dragon, who'd been playing keyboards for the Beach Boys, was between jobs, so he auditioned and landed the gig. Later, Dragon recommended Tennille to the Beach Boys, and she toured with them for a year: she is the one and only "Beach Girl" in the band's history.
After that tour, Dragon and Tennille began performing as a duo in the L.A. area. They landed a record contract, and their first single, "Love Will Keep Us Together" -- co-written by Neil Sedaka -- hit #1 and went on to win a Grammy. The duo went on to score many more hits, including "The Way I Want to Touch You," "Lonely Night (Angel Face)," "Shop Around" and "Muskrat Love." Their popularity also earned them their own ABC TV variety show, which aired from 1976 to 1977.
When the hits dried up, the duo continued to record and tour, though in recent years, they had essentially retired.
Of note, during the time of the duo's greatest popularity, Toni Tennille was also a noted session singer, singing backup on Pink Floyd's The Wall, and on a number of Elton John albums; for example, she can be heard on his hit "Don't Let the Sun Go Down on Me."
According to People , Tennille revealed on her blog in 2010 that Dragon suffers from a neurological condition that is similar to Parkinsons, and that it affected his ability to play keyboards.
Copyright 2014 ABC News Radio