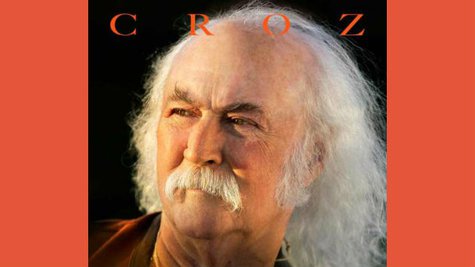 Croz , David Crosby 's first solo studio album in more than 20 years, won't hit stores until Tuesday, but you can check out the entire 11-track collection now online. The folk-rock legend's follow-up to 1993's Thousand Roads is streaming now exclusively at RollingStone.com .
The jazzy, meditative album includes several songs that Crosby co-wrote with his son, Crosby, Stills & Nash keyboardist James Raymond , who also co-produced the collection. Croz also features guest appearances by several well-known musicians, including former Dire Straits frontman Mark Knopfler , acclaimed jazz trumpet player Wynton Marsalis and veteran session bassist Leland Sklar .
Regarding Knopfler, who played guitar on lead track "What's Broken," Crosby tells Rolling Stone , "That was a real piece of generosity on his part. His manager said he usually doesn't record with people, but he might if I send [a track to] him. I sent him the song and he just killed it."
As for the unorthodox nature of the tunes on Croz , the 72-year-old singer/songwriter notes in a promo video for the album from Blue Castle Records that this shouldn't come as a surprise. "I have always written weird s**t," he says, citing the CSN classic "Guinevere" and Crosby, Stills, Nash & Young 's "Déjà Vu" as examples. He explains that his fascination with odd chords and time signatures stems from his early love for the music of such jazz greats as Chet Baker , Gerry Mulligan and Dave Brubeck .
In addition, Crosby also gives major props to Raymond and singer/songwriter Marcus Eaton , who co-wrote a couple of songs on Croz , for helping him realize his vision for the album.
"James and Marcus hear what I'm trying to do and they know what I would like, and they can go there," David declares in the promo clip. "And the result has been that we've written s**t that just completely smokes me."
Crosby begins a series of U.S. shows in support of Croz , this Tuesday in New York City and winds down February 28 in Los Angeles. Visit DavidCrosby.com to check out his full itinerary.
Copyright 2014 ABC News Radio