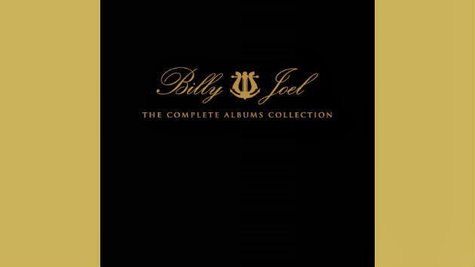 Just in time for the start of Billy Joel 's historic open-ended residency at New York City's Madison Square Garden, the Piano Man's catalog of studio albums have been mastered specifically for iTunes and can be purchased now at the digital music service. In addition, a brand-new 17-track rarities compilation titled Collected Additional Masters (1985-2007) has been made available for download.
The series of full-length releases spans Joel's entire solo recording career, from his 1971 debut Cold Spring Harbor through his 2001 collection of classical compositions, Fantasies & Delusions . Billy's 1981 live album, Songs in the Attic , also is available. In addition, all of the records can be purchased together as a digital box set titled The Complete Albums Collection .
If you've already got all of Joel's albums, however, you may be interested in Collected Additional Masters , which rounds up all the one-off songs that he's recorded through the years. Included are the B-sides of some of his biggest hits, songs that he recorded for movie soundtracks like Runaway Bride , A League of Our Own and Honeymoon in Vegas, and covers of tunes by other artists, from Bob Dylan to Leonard Cohen to The Beach Boys . Also featured is "All My Life," a single Joel released in 2007 that he wrote for his then wife, Katie Lee .
Billy kicks off his Madison Square Garden residency this Monday, and has plenty of other dates lined up throughout 2014. Check out his full itinerary at BillyJoel.com./Events .
Here is the entire list of Joel's albums that have been mastered for iTunes:
Cold Spring Harbor (1971)
Piano Man (1973)
Streetlife Serenade (1974)
Turnstiles (1976)
The Stranger (1977)
52nd Street (1978)
Glass Houses (1980)
Songs in the Attic (1981)
The Nylon Curtain (1982)
An Innocent Man (1983)
The Bridge (1986)
Storm Front (1989)
River of Dreams (1993)
Fantasies & Delusions (2001)
Collected Additional Masters (1985-2007) (2014)
Here is the track list of the Collected Additional Masters compilation:
"Hey Girl"
"You're Only Human (Second Wind)"
"The Night Is Still Young"
"Elvis Presley Boulevard"
"To Make You Feel My Love"
"Light as the Breeze"
"I'll Cry Instead" (live)
"House of Blue Light"
"Nobody Knows But Me"
"Heartbreak Hotel"
"In a Sentimental Mood"
"You Picked a Real Bad Time"
"All Shook Up"
"Where Were You on Our Wedding Day"
"Don't Worry Baby"
"When You Wish upon a Star"
"All My Life"
Copyright 2014 ABC News Radio