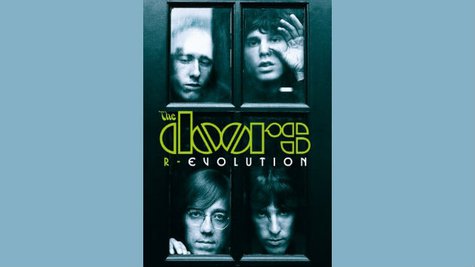 A brand-new Doors video compilation titled R-Evolution that gathers various promotional clips and TV appearances featuring the band hit stores on Tuesday. The collection, which is available on DVD and Blu-ray in standard and deluxe versions, spans the band's entire history and also features videos created long after the group's demise.
In a new interview with ABC News Radio, Doors drummer John Densmore describes R-Evolution as "kind of a visual history of the band." He points out that the series of chronological clips shows how the presentation of the group got more sophisticated as the legendary rockers' success grew. The video includes a number of The Doors' early TV appearances, from such forgotten shows as Shebang and Malibu U , in which the band was shown awkwardly miming their hits on sometimes tacky-looking sets.
"We started out trying to launch this band, so we agreed to stupid shows like Malibu U , where we're standing on a fire truck playing 'Light My Fire,'" explains Densmore. "Some ludicrous thing. But, you know, we were trying to get this band going."
He adds, "As you'll see in the videos later, we get more control as our success mounted, and we started making the videos ourselves." Among these is the 1985 clip for "L.A. Woman," which keyboardist Ray Manzarek directed. Another video included on R-Evolution that The Doors' members contributed ideas to is the striking 1968 publicity film for the anti-Vietnam War song "The Unknown Soldier," in which singer Jim Morrison is shown being mock-executed on a beach by his band mates.
Densmore tells ABC News Radio that a couple of his favorite videos on R-Evolution are a promo clip the band made in 1969 for the song "Wild Child," and one filmed in 1995 to accompany "Ghost Song," a track from The Doors' 1978 spoken-word album An American Prayer .
The "Wild Child" video features footage of the band in the studio trying to figure out the tune's tricky ending, and includes a scene of Morrison and guitarist Robby Krieger playfully bickering about whether or not the ending works.
"It's funny. It's good," says Densmore. "It shows [the] human element there."
In addition to the videos, R-Evolution boasts several interesting bonus features, including an accompanying documentary offering new interviews with Densmore, Krieger, the late Manzarek, Doors engineer Bruce Botnick and Elektra Records founder Jac Holzman . It also includes a 1966 Ford Motor Company training film with a soundtrack provided by The Doors, outtakes of the group's 1967 Malibu U appearance and a newly edited segment of the band playing "Break On Through (to the Other Side)" at the 1970 Isle of Wight festival.
Meanwhile, Densmore reveals to ABC News Radio that plans are going forward for him and Krieger to organize a tribute concert for Manzarek, who died last April after a battle with cancer. John reports that the initial plan of holding the event on February 12, which would have been Manzarek's 75th birthday, is "not gonna happen." He explains, "Getting a bunch of famous musicians together one night in one town is not easy," adding that the show will now take place sometime in the spring or summer.
Copyright 2014 ABC News Radio