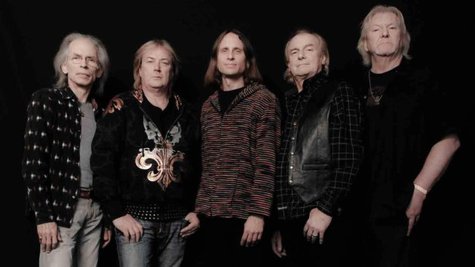 Yes has revealed that it's begun working on a new studio album, which will be the group's first with its latest lead singer, Jon Davison . The legendary prog-rockers posted a series of photos on their Facebook page last week that shows the entire band hunkered down in a Los Angeles recording studio with producer Roy Thomas Baker , whose impressive resume includes most of Queen 's classic 1970s albums.
In a recent interview with ABC News Radio, Yes drummer Alan White showered praise on Davison, who officially joined the group's lineup in February 2012.
"The band is playing really exceptionally well with [Jon], and he's really rose to the occasion," White declared. "His voice is absolutely phenomenal, he really takes care of it and takes care of himself, and is right on the ball every night. And, it's bouncing off the rest of the band."
In addition, White revealed that Davison, who also fronts the band Glass Hammer , has been contributing song ideas to the new project.
"Jon's an exceptionally good writer," said Alan. "We've all been enjoying the fact he's been sending out ideas for songs…and we're just pooling all those ideas together to come up with, hopefully…what we call Yes music at the end of the day."
Meanwhile, in less than three months, Yes will host its second annual Cruise to the Edge , which will sail through the Caribbean with a variety of other prog-rock acts. The five-day nautical music festival will set sail from Miami on April 7 and visit Isla de Roatan in Honduras and Cozumel, Mexico, before returning to port on April 12.
The cruise's lineup also features Marillion , ex- Genesis guitarist Steve Hackett , Queensrÿche , U.K. , former Yes keyboardist Patrick Moraz , Renaissance , Tangerine Dream , The Strawbs and Saga . In addition, famed Yes album artist Roger Dean will be along for the journey, together with an exhibit of his paintings.
White said he and his band mates had "a real lot of fun" on the inaugural edition of the cruise, and he's looking forward to this year's trip.
"Everybody involved all enjoyed it so much and we had a good time on board," he told ABC News Radio.
The 64-year-old rocker also pointed out that the event gives the band members a chance to brush elbows with some of their biggest fans.
"You tend to mix with the crowd and all the people who pay the money to come on the cruise," he explains. "I'll wander around the boat and talk to people and…the fans really appreciate it, so it's a really hands-on experience."
Prior to the 2014 Cruise to the Edge, Yes will mount a Canadian tour that runs from a March 19 show in Victoria through an April 2 concert in Hamilton. The band also has scheduled a pair of U.S. performances just before the cruise, on April 4 in Atlantic City, New Jersey, and April 5 in Bethlehem, Pennsylvania. As they've done on their previous few treks, the group will perform three of their classic 1970s albums in their entirety at shows on their upcoming outing.
Following the Cruise to the Edge, the band will head to the U.K. and mainland Europe for a series of late-spring dates. White told ABC News Radio that after the European trek, "We have a short break and then we'll be doing about another six-week tour of America." He added that the group also has plans to visit Australia, Japan and, possibly, the Philippines this year.
Copyright 2014 ABC News Radio