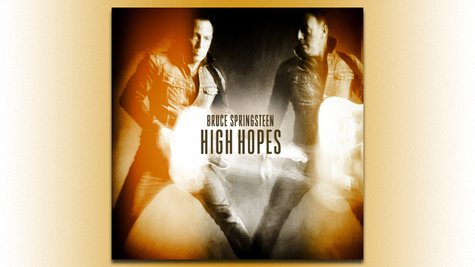 Bruce Springsteen 's High Hopes could be headed for a big #1 debut on the Billboard 200 chart, as the magazine reports that the album is projected to sell between 90,000 and 100,000 units during its first week out. However, the record may have some stiff competition for the top slot with the tally's current #1, the soundtrack to the animated Disney movie Frozen , which also was predicted to sell about 90,000 copies by the end of the current sales week on Sunday, January 19.
If High Hopes does land at #1 on the Billboard 200, it will be the Boss' 11th release overall to achieve the milestone. That would push Springsteen out of a tie with Elvis Presley for the third-most #1 chart-topping albums ever. The only artists with more are The Beatles with 19 and rapper Jay Z with 13.
Bruce is in the midst of a run of chart-topping studio albums, with his last three -- 2012's Wrecking Ball , 2009's Working on a Dream and 2007's Magic -- all reaching #1. High Hopes features a number of unreleased songs that the Boss has worked on over the last 10 years or so, and includes contributions from late E Street Band members Clarence Clemons and Danny Federici . In addition, Springsteen credits Rage Against the Machine guitarist Tom Morello , who appears on eight tracks, as a major catalyst in the project's development.
Copyright 2014 ABC News Radio