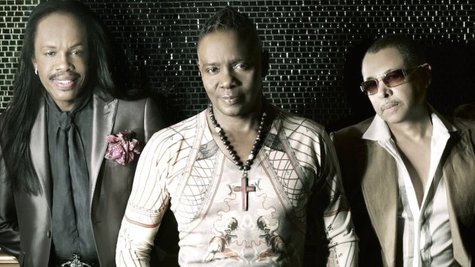 Members of some of the biggest dance-music acts of the 1970s and '80s have lent their talents to Paradise Royale , the debut album by up-and-coming artist DJ Cassidy , which will be released this spring. Among the many veteran musicians featured on the 10-song collection are Earth, Wind & Fire 's Philip Bailey , Verdine White and Larry Dunn ; Kool & the Gang ; Chic 's Nile Rodgers ; Rufus ' John "JR" Robinson and Bobby Watson ; and Ray Parker Jr.
Paradise Royale also includes contributions from a variety of major contemporary stars, among them Robin Thicke , Jessie J , R. Kelly , Mary J. Blige , Cee Lo Green , John Legend , Estelle , Ne-Yo , Kelly Rowland and Usher .
"Producing this album, I set out on a mission to bring the greatest and most universal dance music of all time back to the airwaves, back to nightlife, back to the dance floor," says Cassidy in a promo video for the album. "First, I reunited the most legendary musicians from the late 1970s and early 1980s for the first time in over 30 years to recreate the sound of their prolific era…Then, I united the most eclectic roster of recording artists from my era to write and record original songs.
The deejay describes Paradise Royale as "an epic opus of celebration, a collection of records so alive you'll feel like you're dancing in paradise."
Bailey, White, Dunn, Rodgers and Robinson all can be heard on the album's lead single "Calling All Hearts," which also features Thicke and Jessie J.
Copyright 2014 ABC News Radio