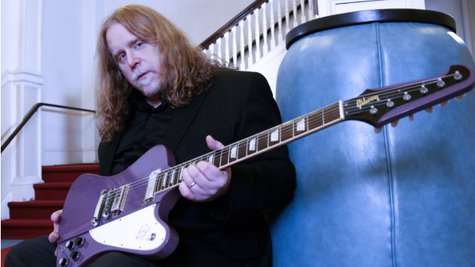 Last week, the Allman Brothers Band 's two guitarists, Warren Haynes and Derek Trucks , revealed in a joint statement that they both will be leaving the group at the end of the year. While the news may have blindsided many of the band's fans, Haynes tells Rolling Stone that his decision to exit the group likely didn't shock those with close ties to the Allman Brothers.
"It's not as big a surprise within our network as some people might think," explains Haynes. "We've been talking about this for a long time."
Warren certainly has plenty of other musical projects to keep him occupied, including a solo career and Gov't Mule , the band he's fronted for about 20 years. He also says his departure from the Allmans will allow him to enjoy more "family time." Meanwhile, he points out that he still expects to collaborate with some of his Allman band mates after he leaves the group.
"I value the musical relationships and friendships that I have with everybody in this band," he maintains. "I'm sure [frontman] Gregg [ Allman ] and I will continue to do stuff in the future."
As for whether there's a possibility that he'd one day return to the Allmans fold, Haynes tells Rolling Stone , "We'll see." He adds, "It's a good place to kind of stop. I'm not predicting the future."
Looking ahead to the immediate future, Haynes will kick off a 12-date U.S. tour with Gov't Mule on February 6 in Columbia, South Carolina and will then rejoin the Allman Brothers Band for its annual residency at New York City's Beacon Theatre, which begins March 7.
Copyright 2014 ABC News Radio