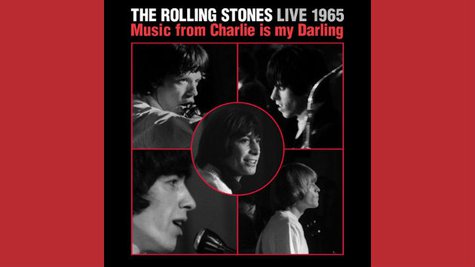 A soundtrack to the archival Rolling Stones tour documentary Charlie Is My Darling -- Ireland 1965 , which was rereleased in updated and expanded form in 2012, will be available for purchase as a digital download on Tuesday . The album's digital release celebrates the Grammy nomination for the Best Historical Album honor that the Super Deluxe edition of Charlie Is My Darling recently received.
The record, titled The Rolling Stones Live 1965: Music from Charlie Is My Darling , originally was included as a bonus CD as part of the film's Super Deluxe package. The album features 13 tracks, and is made up mostly of cover tunes that were part of The Stones' set during their historic '65 tour of Ireland. Among the songs are renditions of Solomon Burke 's "Everybody Needs Somebody to Love," Bobby Troup 's "Route 66," Willie Dixon 's "Little Red Rooster," Hank Snow 's "I'm Moving On" and their own hit "Time Is on My Side," which was written by Jerry Ragovoy . Stones originals on the soundtrack include "The Last Time," the first single by the band that was penned by Mick Jagger and Keith Richards , as well as "I'm Alright" and "Off the Hook."
The Grammy Awards will take place January 26 in Los Angeles. The main portion of the ceremony will air live on CBS at 8 p.m. ET, while many of the trophys will be handed out during a pre-telecast event that will be viewable online at Grammy.com/Live .
Here's is the full track list of the Charlie Is My Darling soundtrack:
Show intro
"Everybody Needs Somebody to Love"
"Pain in My Heart"
"Down the Road Apiece"
"Time Is on My Side"
"I'm Alright"
"Off the Hook"
Charlie's intro to "Little Red Rooster"
"Little Red Rooster"
"Route 66"
"I'm Moving On"
"The Last Time"
"Everybody Needs Somebody to Love" (Finale)
Copyright 2014 ABC News Radio