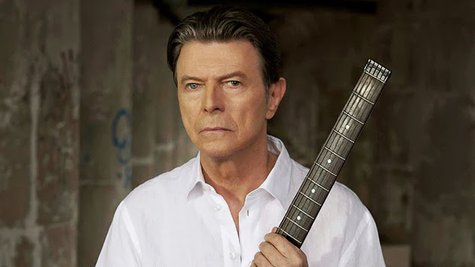 After scoring a pair of nominations this past week for the 2014 Brit Awards, David Bowie has picked up to more nods for another prestigious annual U.K.-based music awards show, the NME Awards, presented by the popular British magazine NME . The influential rocker will vie for the Best Solo Artist and Hero of the Year prizes at the NME ceremony, which is scheduled for February 26 at the O2 Academy Brixton in London.
Bowie will vie for the Best Solo Artist trophy with Paul McCartney and four other stars. As for the Hero of the Year honor, the five other nominees include one of David's musical heroes and one-time collaborator, the late Lou Reed .
Among the other veteran artists receiving NME Awards nominations are The Rolling Stones , whose headlining performance at last summer's Glastonbury Festival is up for the Music Moment of the Year prize. Meanwhile, Bob Dylan 's Bootleg Series, Vol. 10: Another Self Portrait (1969-1971) , The Clash 's Sound System box set, and The Velvet Underground 's White Light/White Heat 45th Anniversary Super Deluxe Edition collection, all received nods for the Best Reissue trophy.
You can check out the full list of nominees at NME.com .
Copyright 2014 ABC News Radio