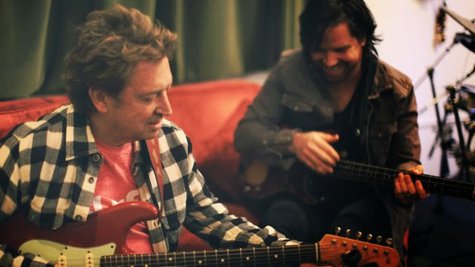 Police guitarist Andy Summers ' new band, Circa Zero , is gearing up to release its debut album. The group has shared a little bit of news about the set via a series of posts on its official Facebook page .
This past week, Circa Zero announced that a release date has been chosen for the album, and asked fans to guess what it was. The only hint the band gave was: "Not Fall. Not Winter. Not Summer."
Circa Zero initially had intended to announce details about its debut album earlier last year, but explained in a note posted late last month that a number of factors delayed its plans. As the band wrote on its Facebook page, "Hired management. Fired management. Searched for new [management]. Got them. Searched for the right label. Found them…Needed more songs and b-sides and acoustic versions etc. Recorded them. Remixed and remastered all of them."
Meanwhile, it's just been confirmed that the group will be playing at this year's South by Southwest festival in Austin, Texas, which runs from March 11 to March 16.
Summers formed Circa Zero with singer/multi-instrumentalist Rob Giles of the Los Angeles-based rock band The Rescues . The group completed its lineup with addition of drummer Emmanuelle Caplette , who hails from Montreal.
Copyright 2014 ABC News Radio