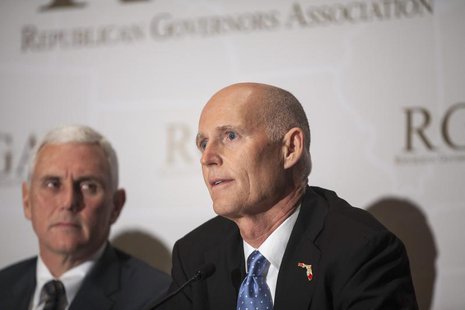 By Bill Cotterell
TALLAHASSEE, Florida (Reuters) - Hoping to bolster his support in South Florida's Hispanic community, Governor Rick Scott chose Miami-Dade County official Carlos Lopez-Cantera on Tuesday to fill the vacant position of lieutenant governor and be his running mate in November.
An influential former state legislator and now property assessor for the county, Lopez-Cantera, 40, rose steadily in the Florida House as an ally of then-Speaker Marco Rubio and was House majority leader 2010-2012. The real estate agent was forced out of the Legislature by the eight-year term limit, but he was elected county property appraiser in 2012.
Polls have long shown Scott, who is seeking re-election in November, trailing ex-Governor Charlie Crist, a former Republican now running against him as a Democrat and widely seen as popular among Hispanic voters.
The Cuban-American vote is especially strong - and tends to favor Republicans - in Miami-Dade County, the state's largest urban area.
"Carlos is a great friend and a phenomenal choice to be Florida's lieutenant governor," Rubio said in a statement released by the governor's office.
"Throughout his service in the Florida House, he was an indispensable player in advancing a conservative agenda and fighting Charlie Crist's job-killing policies."
Former Florida Governor Jeb Bush added his support, saying that Lopez-Cantera was "a great pick" who shared Scott's "vision for improving Florida and reforming government."
Lopez-Cantera assumed a post vacant for 10 months since the resignation of Lieutenant Governor Jennifer Carroll, Scott's 2010 running mate, who was forced out in a scandal about online gambling operations and fraudulent charities.
Carroll was not charged with any wrongdoing but was forced out because the criminal investigation would be a distraction for Scott's tough re-election effort.
Scott had initially said he would pick a lieutenant governor after the 2013 legislative session, which ended in May.
"We took the right amount of time to find the right person" for the job, which has no official duties other than to succeed the governor, if necessary, he said Tuesday.
Democrats were quick to pounce on the appointment, which had been widely rumored around Tallahassee on Monday. Florida Democratic Party Chairwoman Allison Tant called Lopez-Cantera "the poster child for what is wrong with Tallahassee today, an ultra-partisan career politician who spent his time in Tallahassee putting big corporations and wealthy special interests ahead of middle class families."
(Editing by Cynthia Osterman)