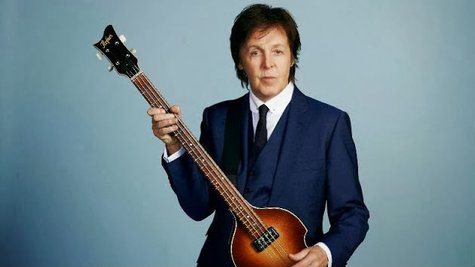 Paul McCartney is probably the world's most famous living rock star, so it's not surprising that his signature commands a high price with memorabilia collectors. In fact, according to a new list compiled by Paul Fraser Collectibles -- a British firm that specializes in high-end items like stamps, vintage wine and celebrity memorabilia -- the former Beatles star's autograph is more valuable than any other entertainer who's still with us.
McCartney ranks third overall on the U.K. company's latest annual index of the " Top 10 Most Valuable Living Autographs ," with a signature that's worth an average of $3,275. The tally cites Sir Paul's huge fan base as a major reason why his "John Hancock" is so pricey, and reports that its value has increased 20.6 percent annually since 2000.
Next on the list is Bob Dylan , with an autograph worth just under $3,220, because he's so reclusive and his signature is rare. Further down on the tally is McCartney's fellow surviving Beatle band mate Ringo Starr , who lands at #9; his autograph is worth just over $1,975.
Rounding out the top 10 is Madonna , whose signature is valued at about $1,640.
Other luminaries on the list include Muhammad Ali , Queen Elizabeth II , Tiger Woods , J.K. Rowling , Prince William and, coming in at #1, Cuban leader Fidel Castro , whose signature is worth more than $5,700.
Copyright 2014 ABC News Radio