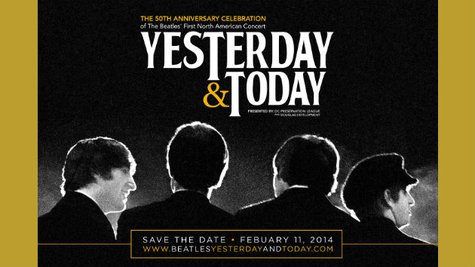 A concert is being organized to commemorate the 50th anniversary of The Beatles ' first full U.S. performance, which took place February 11, 1964, at the Washington Coliseum in Washington, D.C. The Yesterday & Today show will be held this February 11 at the site of the venue and will feature a headlining performance by the tribute band Beatlemania , which will play the exact set as the Fab Four did.
The concert also will feature a performance by 1960s pop star Tommy Roe , who was one of the opening acts at The Beatles' 1964 show. Roe, who topped the charts in 1962 with "Sheila" and 1969 with "Dizzy," will deliver an acoustic set at the event. In addition, the Yesterday & Today concert will feature other performers, a documentary about the Washington Coliseum and an exhibition of photos from the Fab Four show taken by photographer Mike Mitchell .
Proceeds raised by the concert will benefit the DC Preservation League, which helps redevelop historic properties in the area. Tickets for the event, which cost $45 for general admission standing tickets and $100 for seating, are available now at BeatlesYesterdayAndToday.com .
The Beatles' first U.S. concert happened two days after the band's famed debut on The Ed Sullivan Show . Here is the set list from the Washington, D.C., performance:
"Roll Over Beethoven"
"From Me to You"
"I Saw Her Standing There"
"This Boy"
"All My Loving"
"I Wanna Be Your Man"
"Please Please Me"
"Till There Was You"
"She Loves You"
"I Want to Hold Your Hand"
"Twist and Shout"
"Long Tall Sally"
Copyright 2014 ABC News Radio