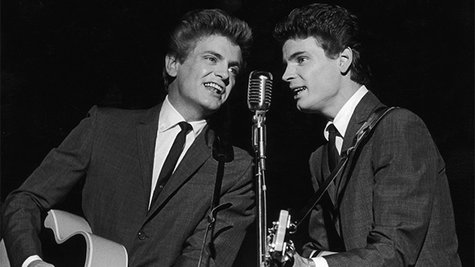 The death of The Everly Brothers ' Phil Everly this past Friday apparently has inspired a surge in sales of the influential country-rock duo's music. Billboard reports that The Everlys' album catalog enjoyed a 455-percent gain for the week ending January 5, according to Nielsen SoundScan.
The best-selling individual title for the duo was their compilation The Very Best of the Everly Brothers , with 2,000 copies sold. The collection lands at #8 on Billboard 's Country Catalog Albums chart.
As for digital sales, The Everly Brothers' sold 18,000 tracks during the past week, a 696-percent increase over the previous week. Selling the most downloads was the duo's 1958 chart-topping hit "All I Have to Do Is Dream." The tune sold 4,000 digital copies, a 455-percent gain.
During their career, The Everly Brothers released 31 singles that charted on the Billboard Hot 100, including a dozen that reached the top 10 and five that hit #1. Phil Everly was 74 when he died, after a battle with chronic obstructive pulmonary disease.
Copyright 2014 ABC News Radio