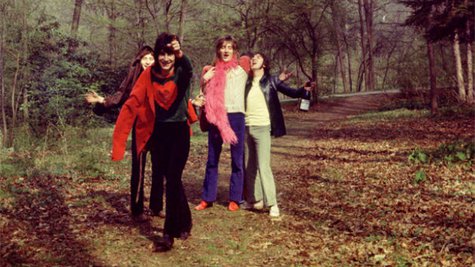 Last month, Faces keyboardist Ian "Mac" McLagan responded to reports that singer Rod Stewart was earmarking 2015 for a reunion of their old band by telling Billboard that he'd heard nothing about the reunion plans and he might not be available then. Now, Faces drummer Kenney Jones tells the magazine that discussions are indeed under way for the group's surviving members to get together sometime next year.
"[Guitarist Ron Wood 's] management and myself, we were talking to Rod's management," Jones reveals. "Mac didn't realize we were talking because it was in its early stages. But he understands full now."
The drummer, who also played with The Who during the 1970s and 1980s, notes that Stewart probably didn't realize that McLagan hadn't been informed about the talks when he made his initial comments about a reunion.
While plans for the Faces reunion are still being organized, Jones maintains that it "would be lovely to do, we've been talking about it [for] long enough." He adds, "The Faces never finished on a good note [in 1975], so it would be nice to finish on a good note, and that would be that." He also says that Stewart's touring bassist, Conrad Korsch , likely will fill in original Faces member Ronnie Lane , who died in 1997 from complications of multiple sclerosis.
He also points out that the timing seems right for the reunion, since Stewart recently returned to a more rock-influenced sound after years of focusing on his Great American Songbook albums.
Jones also confirms that he and McLagan are trying to organize some kind of 50th anniversary commemoration next year for their pre-Faces group, The Small Faces . In addition, Kenney tells Billboard that he's been working on a script for a long-planned animated project based on the 1968 Small Faces concept album, Ogden's Nut Gone Flake .
"I've carried this idea with me through the Small Faces and everything I've done in my musical career," Jones explains. "So I can't wait to get it out of my head and down on and on a film, finished, done."
Copyright 2014 ABC News Radio