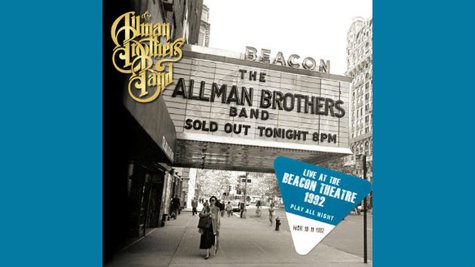 Official details have been unveiled for two of the recently reported archival releases from The Allman Brothers Band that will hit stores next month.
Arriving on February 18 will be a two-CD set titled Play All Night: Live at the Beacon Theatre 1992 that features performances from the band's first extended residency at the famed New York City venue, and Live at Great Woods , a DVD offering long-form video of a September 1991 concert the group played in Mansfield, Massachusetts.
Play All Night features renditions of such Allman Brothers classics as "Statesboro Blues," "Blue Sky," "Jessica" and "Whipping Post," as well as a particularly inspired epic version of "In Memory of Elizabeth Reed." The collection also includes a number of tunes from the group's then-recent studio album, Shades of Two Worlds , as well as an acoustic segment featuring "Midnight Rider," "Seven Turns" and blues legend Robert Johnson 's "Come On in My Kitchen." The band's lineup at the time still featured founding singer/guitarist Dickey Betts , and also included recently added percussionist Marc Quinones and late bassist Allen Woody .
"1991-92 was a period of great creativity for that configuration of the Allman Brothers, and these shows capture a true moment in time for the group," says longtime Allmans guitarist Warren Haynes , who produced the album. "All in all, I think Play All Night represents how on fire that band could be on any given night at that point in their history."
You can check out a preview of Play All Night now at Rolling Stone 's website , which is streaming the group's version of "Statesboro Blues" from the album.
As for the Live at Great Woods DVD, it will be a reissue of a previously released video. The new disc will include the full show that the Allmans played at Massachusetts' Great Woods Center for the Performing Arts. A previously available DVD included an edited version of the show that was interspersed with interviews with the band's members.
Copyright 2014 ABC News Radio