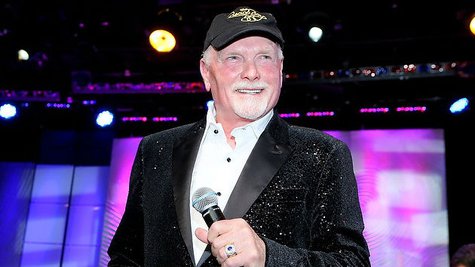 In honor of what would have been George Harrison 's 71st birthday, Beach Boys singer Mike Love officially released a solo single titled "Pisces Brothers" on Tuesday that he penned as a tribute to the late Beatles legend. The song, which was written in 2004, pays homage to the 1968 spiritual pilgrimage that Love, The Beatles, Donovan and other celebrities took to Rishikesh, India, to study with Transcendental Meditation guru Maharishi Mahesh Yogi .
The sentimental song's lyrics include a segment from Harrison's classic Beatles tune "Here Comes the Sun," as well as the Sanskrit spiritual phrases "Jai guru deva" and "Hare krishna, hare rama," which also appear in songs by George and the Fab Four. The tune's title refers to the fact that both Love's and Harrison's birthdays fall under the same astrological sign.
"George and I had shared many life experiences together, some of my most cherished moments in life, especially the time spent with George and his band mates at Maharishi's Academy in Rishikesh," explains Love in a post on his Facebook page . "George and I felt that the pursuit of spiritual knowledge more than balanced our lives as musicians. We found that practicing [Transcendental Meditation] provided us with an inner peace that enhanced our music."
In a separate statement about "Pisces Brothers," Mike notes, "The song is really sentimental for me, and meant to honor George Harrison's remarkable contribution to music. And how, in this one moment in time, we got together, as the song says, not fortune or for fame, but for enlightenment."
"Pisces Brothers" is streaming online at Love's official SoundCloud page .
Copyright 2014 ABC News Radio