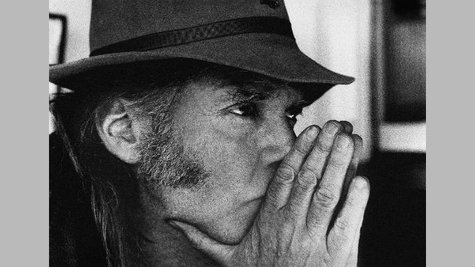 Neil Young is planning to release a follow-up to his 2012 memoir Waging Heavy Peace sometime in the fall. The as-yet-untitled book will focus on the folk-rock legend's passion for cars, and will include stories about the different automobiles he's owned throughout his life.
The new tome also will include Young's reflections on the importance of clean energy and on the negative effects emissions from older cars have had on the environment. In addition, the book will include original illustrations created by the 68-year-old Rock and Roll Hall of Famer. Blue Rider Press, which is publishing the memoir, describes it as "an eclectic amalgam of memories, artwork and political ponderings from one of the most genuine and enigmatic artists of our time."
Young spoke with ABC News Radio about the upcoming book back in December of 2012, and revealed at the time that he'd already written "almost 110,000 words." He also reported that he planned to "transcend from autobiography and memoir mode into fiction" after completing this project.
Waging Heavy Peace was published in September 2012, also by Blue Rider Press, and reached #2 on The New York Times Hardcover Nonfiction Best Sellers list.
Copyright 2014 ABC News Radio