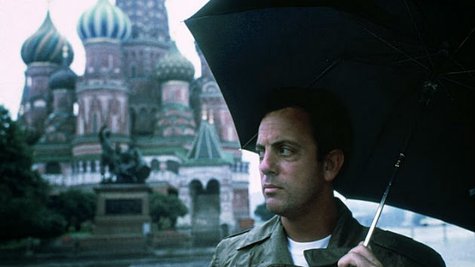 Last month, Showtime aired the Billy Joel documentary Billy Joel: A Matter of Trust -- The Bridge to Russia , focusing on the Piano Man's historic August 1987 tour of the Soviet Union. Now you can own it -- and a lot more -- on DVD, Blu-ray and CD.
There will be several versions of the package arriving May 20. One is a deluxe edition boxed set featuring the Showtime documentary, plus a full-length concert film of Billy's performance in the city formerly known as Leningrad, as well as a two-CD live album including unreleased tracks and bonus material, and a book with rare photos and first-hand accounts of journalists who were present for the tour.
If you don't want the box set, you'll be able to buy both the concert film and the two-CD set separately. The film is a remastered version of Live in Leningrad 1987, which hasn't been been available since it first came out on VHS. It includes 12 previously unreleased performances, more than doubling the original run time.
As previously reported, A Matter of Trust -- The Bridge to Russia gives fans a look at a particularly pivotal time in history through the experiences of Billy, his family, band and crew in the U.S.S.R. "I just thought it was very important for Americans to see what happened," Billy says in the documentary. "People forget how tense things were. We were all in terror that we were gonna get blown up by 'the Evil Empire.' The minute I got there I recognized [that] people like us -- they're not my enemy -- and the Cold War kind of ended for me."
Here's the track listing for the 2-CD set:
Disc One
"Odoya
"Prelude/Angry Young Man"
"Honesty"
"The Ballad of Billy the Kid" -- previously unreleased
"She's Always a Woman" -- previously unreleased
"Scenes from an Italian Restaurant" -- previously unreleased
"Goodnight Saigon"
"Stiletto"
"Big Man on Mulberry Street"
"Baby Grand"
"What's Your Name" -- previously unreleased
"The Longest Time" -- previously unreleased
"An Innocent Man"

Disc Two
"Pressure" -- previously unreleased
"Allentown"
"A Matter of Trust"
"Only the Good Die Young"
"It's Still Rock and Roll to Me" -- previously unreleased
"Sometimes a Fantasy"
"Uptown Girl"
"Big Shot"
"Back in the U.S.S.R."
"The Times They Are a Changin'"
"She Loves You" -- previously unreleased Russian concerts rehearsal recording
"New York State of Mind" -- previously unreleased
"Piano Man" -- previously unreleased
Copyright 2014 ABC News Radio