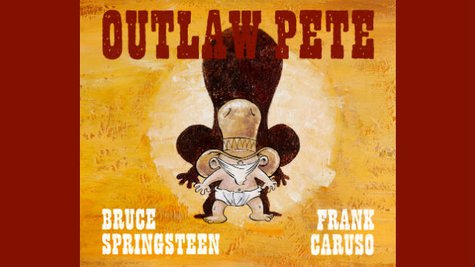 A new illustrated storybook based on Bruce Springsteen 's 2009 song, "Outlaw Pete," is scheduled to be published on November 4 . The book was the brainchild of cartoonist and writer Frank Caruso , who decided he wanted to bring to life the Boss' tale of a bank robber who began his life of crime when he was just a baby.
"'Outlaw Pete' is essentially the story of a man trying to outlive and outrun his sins," explains Springsteen, whose lyrics serve as the book's text.
The epic song, which appeared on Bruce's 2009 Working on a Dream album, was inspired by a 1950 children's book titled Brave Cowboy Bill that his mother used to read to him when he was young.
"When Bruce wrote 'Outlaw Pete' he didn't just write a great song, he created a great character," says Caruso. "The first time I heard the song this book played out in my head. Like Tom Sawyer, Huck Finn, Dorothy Gale and for me, even Popeye, Outlaw Pete cuts deep into the folklore of our country and weaves its way into the fabric of great American literary characters."
Jonathan Karp , president of the Simon & Schuster publishing company, adds, "This book will be treasured by anyone who appreciates Bruce Springsteen's unique gifts as a storyteller. Frank Caruso's illustrations vibrantly capture the spirit of Springsteen's work."
Outlaw Pete is available for pre-order now via Amazon, Amazon Kindle, Apple iBooks, and Google Play.
Follow @ABCNewsRadio Copyright 2014 ABC News Radio