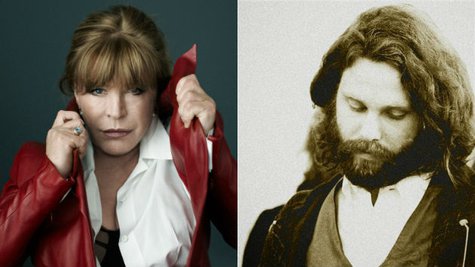 Marianne Faithfull comes forth with a startling revelation in a new interview with U.K. music magazine Mojo : She says she knows who killed Jim Morrison .
In the article, the 67-year-old singer explains that back during the summer of 1971, she was in Paris with her then-boyfriend Jean de Breiteuil , a drug dealer who supplied heroin to various celebs. Faithfull claims that Breiteuil told her he needed to pay a visit to Morrison's apartment, and she decided not to go along because she got a negative feeling about the situation.
"I could intuitively feel trouble," she tells Mojo . "I thought, I'll take a few Tuinal and I won't be there. And [Jean] went to see Jim Morrison and killed him. I mean I'm sure it was an accident. Poor bastard. The smack was too strong? Yeah. And he died."
Marianne, who famously dated Mick Jagger during the late 1960s and infamously struggled herself with heroin addiction for years, adds that "everybody connected to the death of this poor guy is dead now. Except me."
Morrison died on July 3, 1971, at the age of 27. No autopsy was performed on the singer because the medical examiner saw no signs of foul play. Late Doors manager Danny Sugerman claimed in his 1989 book Wonderland Avenue that Jim's girlfriend Pamela Courson told him that Morrison did die of a heroin overdose after snorting the drug, believing it to be cocaine.
Follow @ABCNewsRadio
Copyright 2014 ABC News Radio