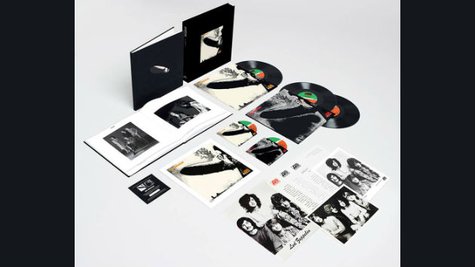 A new video teaser gives Led Zeppelin fans a peek inside the Super Deluxe Box Set edition of the upcoming reissue of their eponymous 1969 debut album. The 35-second trailer, which you can see on Led Zeppelin's official YouTube channel , is accompanied by audio of a live version of "Communication Breakdown" that's part of the package's bonus content.
As displayed in the video, the Led Zeppelin super deluxe set includes a remastered edition of the original album, both on CD and high-quality vinyl; a CD and double LP featuring performances from a 1969 Paris concert by the band; a collectible print of the cover art; a 72-page hardback book with photos and archival images; a replica of the group's original Atlantic Records press kit; and a download card offering access to an high-def digital audio version of the album.
Led Zeppelin also recently posted a video that featured the full version of a medley of "Good Times, Bad Times" and "Communication Breakdown" from the bonus Live in Paris, 1969 disc.
As previously reported, Led Zeppelin , Led Zeppelin II and Led Zeppelin III all will be reissued in various configurations on June 3.
Copyright 2014 ABC News Radio