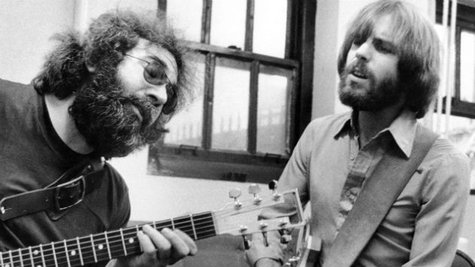 A new documentary about founding Grateful Dead singer/guitarist Bob Weir gets its premiere tonight at the Tribeca Film Festival in New York City. The Other One: The Long, Strange Trip of Bob Weir will be shown at the Tribeca Performing Arts Center at 9:30 p.m. ET, and will feature a special musical set by Weir himself following the screening.
The movie follows Weir's life, from his early years as a high-school dropout following author Ken Kesey 's Merry Pranksters communal group, through his amazing 30-year adventure as a member of the world's most celebrated jam band and beyond. The Other One features candid conversations with Bob, as well as interviews with his Dead band mates Phil Lesh , Mickey Hart and Bill Kreutzmann ; various family members; and musical friends such as Sammy Hagar , Bruce Hornsby and Phish 's Mike Gordon .
In addition, the movie includes concert and behind-the-scenes footage, and takes a look at how the Grateful Dead was affected by and influenced the cultural changes the world underwent during the group's existence.
The Other One was directed by Mike Fleiss , whose credits also include the 2011 documentary God Bless Ozzy Osbourne . The Tribeca Film Festival will host encore screenings of the movie this Friday evening and Saturday afternoon at the AMC Loews Village 7 theater. The flick also will be shown at the San Francisco International Film Festival on April 29 and May 2.
Copyright 2014 ABC News Radio