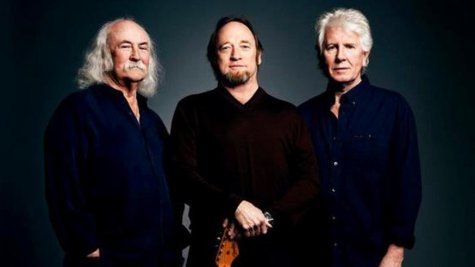 Crosby, Stills & Nash fans will have a few more chances to see the legendary folk-rock trio in concert this year in the U.S. The group, whose 2014 stateside tour stretches from early July all the way to early October, has added three more dates to its itinerary.
The new shows are a July 11 gig at the Beacon Theatre in New York City, the third performance CSN has scheduled at the famed venue this year, and September 16 and 17 concerts in two respective Oregon cities -- Portland and Eugene. Pre-sale tickets for the three shows will be available starting this Wednesday at 10 a.m. local time. One dollar from each general-admission ticket sold for the trek will be donated to charity. In addition, special benefit seats and packages are being sold via GuacFund.org.
The upcoming tour will feature Crosby, Stills & Nash performing songs from throughout their long career, as well as brand-new material from each of the members. The Rock and Roll Hall of Famers will be supported by the same group of touring musicians that has accompanied them for the last few years -- guitarist Shane Fontayne , drummer Steve DiStanislao , bassist Kevin McCormick and keyboardists James Raymond and Todd Caldwell .
CSN's upcoming tour leg gets under way July 2 in Bethlehem, Pennsylvania, and is mapped out through an October 4 show at the Greek Theatre in Los Angeles. Check out the band's full schedule at CrosbyStillsNash.com .
Copyright 2014 ABC News Radio