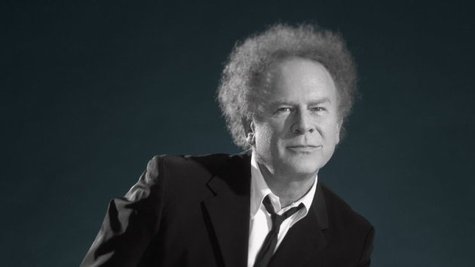 Since 2010, Art Garfunkel has struggled with a vocal ailment that forced him to take a hiatus from performing for about three years. In recent months, however, the Rock and Roll Hall of Famer has returned to the stage, visiting small venues with a show that combines musical performances, prose and poetry pieces, and audience Q&A's.
Garfunkel's latest show took place Saturday at the Long Wharf Theatre in New Haven, Connecticut. Any fans attending the concert who may have been concerned about the condition of his voice needn't have worried -- while the 72-year-old pop-rock legend's power may have been slightly diminished and his upper range a bit strained, his singing still was absolutely angelic.
The majority of songs were renditions of Paul Simon -penned classics from Art's years with Simon & Garfunkel , including "The Boxer," "April Come She Will," "For Emily, Whenever I May Find Her," "Homeward Bound," "The Sound of Silence" and "Kathy's Song." Among the other songs were tunes Garfunkel either recorded for his solo albums or select covers by songwriters he admires, among them Billy Joel 's "And So It Goes," Randy Newman 's "Real Emotional Girl" and Antonio Carlos Jobim 's "Corcovado (Quiet Nights of Quiet Stars)." Art was accompanied by acoustic guitarist Tab Laven , whose fluid, virtuosic finger-picking style perfectly suited the songs.
Interspersed between the musical performances, Garfunkel shared alternately humorous and touching anecdotes and well-crafted prose poems. Among them were Art's recollections about the first time Simon played "The Sound of Silence" to him, how his father helped inspire his love of music and the time he serenaded a herd of cows with "Ol' Man River" during one of his walking trips across the United States.
To close out the evening, and to the delight of the audience, Art delivered an abbreviated but stellar version of the Simon & Garfunkel classic "Bridge over Troubled Water."
Garfunkel has about a dozen more confirmed performances on his schedule, running from a May 17 show in Bethlehem, Pennsylvania, through a June 29 visit to Wilmington, North Carolina.
Here are all of Art's upcoming shows, according to his official website :
5/17 -- Bethlehem, PA, Sands Casino
5/23 -- Baltimore, MD, Hippodrome Theatre
5/24 -- Washington, DC, Sixth & I Historic Synagogue
6/6 -- Columbia, SC, Performing Arts Center
6/7 -- Charleston, SC, Congregation Church
6/13 -- White Plains, NY, Performing Arts Center
6/14 -- Peekskill, NY, Hudson Valley Theater
6/19 -- Northampton, MA, Academy of Music
6/20 -- Worcester, MA, Mechanics Hall
6/21 -- Boston, MA, Berklee Performance Center
6/26 -- Raleigh, NC, Carolina Theater
6/27 -- Charlotte, NC, Amos Southend Theater
6/29 -- Wilmington, NC, Brooklyn Arts Theater
Copyright 2014 ABC News Radio