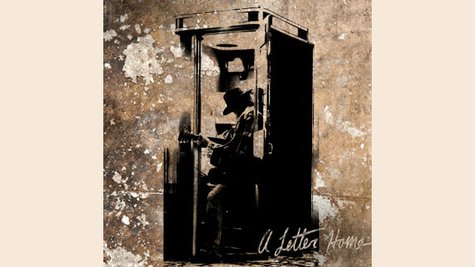 Happy Record Store Day, Neil Young fans! A day before the big audiophile promotion, and without any fanfare or official announcement, the folk-rock legend has made his new album, A Letter Home , available for purchase via the official online store of ex- White Stripe frontman Jack White 's Third Man Records label. A vinyl LP version of the record can be ordered for $20, not including shipping fees.
A Letter Home was co-produced by Young and White, and features 10 cover tunes by various singer-songwriters who have inspired and influenced Neil. Among the songs are Bob Dylan 's "North Country Girl," Bruce Springsteen 's "My Hometown," Willie Nelson 's "On the Road Again" and Gordon Lightfoot 's "If You Could Only Read My Mind." Several of the tunes included on the album have been featured in Young's recent concert sets.
As previously reported, Neil recorded A Letter Home on a 1947 Voice-o-Graph recording booth that's located at White's Third Man Records store in Nashville. The device allows the user to record a song directly onto a vinyl disc. A statement from Young describes the album as "an unheard collection of rediscovered songs from the past recorded on ancient electro mechanical technology [that] captures and unleashes the essence of something that could have been gone forever."
Here is a complete track listing of A Letter Home , along with the artist who originally recorded each song:
"Changes" (Phil Ochs)
"Girl from the North Country" (Bob Dylan)
"Needle of Death" (Bert Jansch)
"Early Morning Rain" (Gordon Lightfoot)
"Reason to Believe" (Tim Hardin)
"On the Road Again" (Willie Nelson)
"If You Could Only Read My Mind" (Gordon Lightfoot)
"Since I Met You Baby" (Ivory Joe Hunter)
"My Hometown" (Bruce Springsteen)
"I Wonder If I Care as Much" (Everly Brothers)
Copyright 2014 ABC News Radio