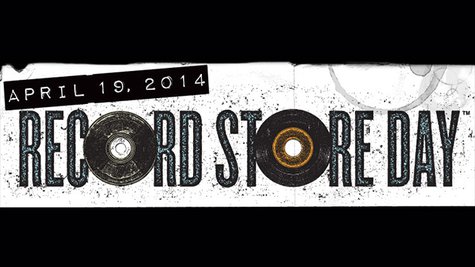 Spring is in the air, but if you breathe deeply enough you may also pick up the scent of fresh vinyl. This Saturday, April 19, marks the seventh annual installment of Record Store Day, which is celebrated at select music retailers throughout the U.S., Canada, the U.K. and several other countries. In conjunction with the unofficial holiday, a vast number of artists are issuing limited-edition vinyl singles, EPs and LPs that are sold exclusively at participating independent record shops.
This year's Record Store Day is proving to be one of the most expansive yet, with more than 400 special releases headed for U.S. stores alone. Obviously, there are way too many discs to list, but among some of the noteworthy acts represented are Aerosmith , David Bowie , the Flaming Lips , Green Day , Joan Jett & the Blackhearts , Jimmy Page & The Black Crowes , Linkin Park & Jay-Z , Mastodon , My Chemical Romance , Nirvana , The Ramones , Regina Spektor , R.E.M. , Soundgarden and Tegan and Sara .
Here's some specific information about a few of the releases sure to interest audiophiles and fans:
- Nirvana's "Pennyroyal Tea" and "I Hate Myself and Want to Die" -- the first release of "Pennyroyal" on seven-inch vinyl. The B-side was originally supposed to be released in 1994 but was shelved when Kurt Cobain committed suicide.
- Soundgarden's Superunknown: The Singles -- a set of five 10-inch vinyl discs.
- Mastodon -- Live at Brixton -- 180-gram vinyl two-LP set, with DVD, limited to run of 2,000.
- R.E.M. -- Unplugged: The Complete 1991 and 2001 Sessions -- a limited edition four-LP vinyl set. Besides the complete aired Unplugged performances, the set will contain 11 songs that didn't make it to the televised show.
- Regina Spektor -- "You've Got Time" -- the theme song to Orange Is the New Black , pressed on orange vinyl. Limited edition of 3,000.
- David Bowie's "1984" picture disc -- a seven-inch single featuring a photo of Bowie with famed beat author William S. Burroughs , and including the original version of the song and a live rendition from a December 1974 TV appearance.
- Jimmy Page and The Black Crowes' Live at the Greek -- a three-LP version of the 2000 album -- on red, clear and blue vinyl discs -- capturing performances from Page and The Crowes' collaborative 1999 shows in Los Angeles.
Check out the full list of special releases at RecordStoreDay.com .
Copyright 2014 ABC News Radio