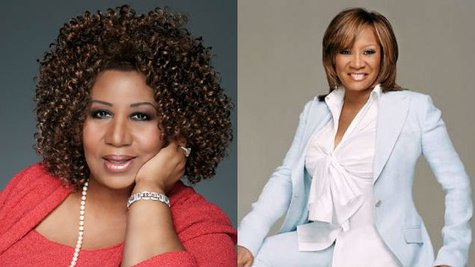 Earlier this month, The News Nerd published a satirical story about Aretha Franklin getting into a physical altercation with Patti LaBelle . Although the Queen of Soul released a statement clarifying that the story was false, she is planning to file a $10 million lawsuit against the publication, according to the Detroit News .
"The stories were not presented as satire or humor. It was presented as a serious news story intended to depict me in a slanderous and derogatory way -- defamation of character," said Franklin through her publicist Gwendolyn Quinn .
The News Nerd claimed that Patti was arrested after she punched Aretha with "a Mayweather style right and left." The fabricated story was seemingly concocted after Franklin was captured pulling her arm away from Patti, who was trying to greet Aretha at the "Women of Soul" concert at The White House last month.
Although the publication carries a disclaimer at the bottom of each web page that describes its stories as "purely satirical" and "for entertainment purposes only," Franklin is still moving forward with possible legal action.
Earlier this week, the legendary singer laughed off the alleged incident. "I've never heard anything crazier," Franklin said in a statement on Tuesday. "Patti and I are cool and we always have been. I enjoyed her at the White House. Classic Patti."
Copyright 2014 ABC News Radio