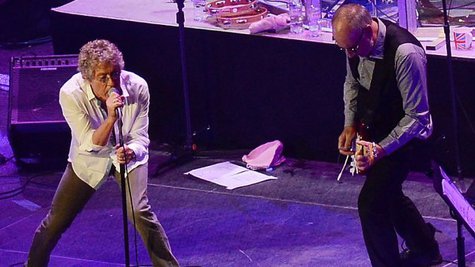 This past October, Who singer Roger Daltey revealed to Rolling Stone that his band was planning to launch a 50th anniversary tour sometime in 2015, but now guitarist/songwriter Pete Townshend is reporting that the trek will get under way a bit earlier. Townshend tells Billboard that the outing will start around Christmastime in the United Kingdom and then will make its way to North America next year.
"It will be a world tour," explains the 68-year-old rocker. "I'm not crazy about going on the road, but I'm in good shape and once I start doing it -- and I'm still very good at it -- I'll take some pleasure from it." The trek is expected to be the band's last major tour.
Meanwhile, Pete reports that he's finally hoping to put together a new Who studio album, which would be a follow-up to 2006's Endless Wire .
"I'm trying to [look] through my 20,000 hours of complete and utter disorganized music [to find possible songs]," he says. "I'll be pulling some songs out of [his long-in-the-works project] 'Floss' to give to Roger to see if we've got enough to make an album." He adds, "It might be a big waste of time, but I'm hoping there will be an album."
Reflecting on the tour that will mark his band's half-century-long career, Townshend tells Billboard that although he's prepared for it, the trek comes at a transitional period in his life.
"I'll be 69 in May and all my friends are getting ill or dying," he points out. "I knew it would happen. I will be happy if I give people something that makes fans happy. It takes some great planning and I hope it opens up other things that we can avail ourselves of."
As previously reported, outside of his work with The Who, Townshend has co-written and recorded a new song titled "It Must Be Done" that will get its premiere on the April 30 episode of the FX espionage-drama series The Americans , which airs at 10 p.m. ET/PT.
Copyright 2014 ABC News Radio